case study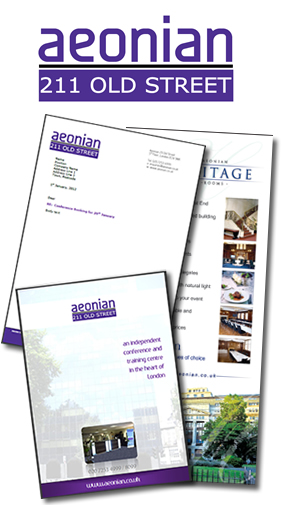 aeonian venues - aeonian 211 old street
Company: Aeonian 211 Old Street
Services: website design, multiple graphic design projects for print, marketing communications planning, copywriting, logo design, freelance marketing consultancy
Aeonian Venues approached us via our website with an enquiry for a marketing communications plan. After an initial free consultation, Charlie Apple were contracted to provide a full marketing strategy and communications plan for this training venue based in the West End.
Once delivered, Charlie Apple were retained to implement the communications plan with the design and build of a new website, commission new photography, and design and print a range of marketing collateral, including fliers, brochures, roller banners and print adverts.
Following a relocation to the other side of London, we took the opportunity to rebrand to Aeonian 211 Old Street. This included a new logo, new stationery and company brochure. The website was also given a makeover to reflect the new branding.
Aeonian continues to use Charlie Apple on a freelance marketing basis, under which we continue to maintain and update their website, design for print, produce email newsletters, source targeted mailing lists, produce email campaigns, copywrite marketing collateral and are setting up their digital marketing strategy through social networking sites.
View the site at www.aeonian.co.uk