case study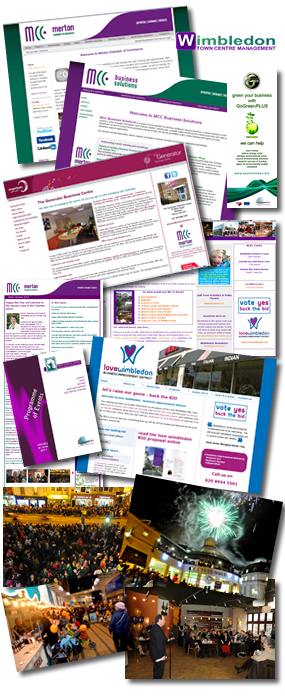 merton chamber of commerce - mcc business solutions
Company: Merton Chamber of Commerce
Services: website design, graphic design projects for print, marketing communications planning, copywriting, logo design, freelance marketing consultancy, event management, telemarketing, workshops and training, town centre management.
Merton Chamber of Commerce is our longest standing current client. Since 2004, we have provided every service that we offer over many projects and services they provide, as well as being subcontracted to service their projects. Our work with the Chamber, the most active in South West London, continues to this day.
Highlights of some of the projects we have worked on are:
Website design: Wimbledon Town Centre Management, southlondon.biz, MCC Business Solutions, Willow Lane Action Group, Willow Lane BID, The Generator Business Centre, Love Wimbledon and the project management of the development of Merton Chamber's website.
Logo design: Wimbledon Town Centre Management, Going for Gold, Foodfest, Willow Lane BID
Graphic Design: Programme of Events, Retail Sector Report, GoGreen News, AGM Leaflet, Event Fliers, newsletters, business cards, promotional postcards, roller banners, vinyl banners.
Copywriting: Case studies of clients of various services, website copy, press releases, advertising, corporate brochure.
Event Management: Sole organiser of Wimbledon town centre's biggest annual event, Winter Wonderland since 2004, attracting over 2000 people into town centre and involving market stall sales, sponsor recruitment, advertising sales, digital and print marketing, local authority and police liason, logistics, audio visual, risk assessments, all contractor negotiations, event production, planning and promotion. A variety of other events including Business Forums, Business Exhibition, Launch Events, Markets, Foodfest and more.
Workshops & Training: Workshop facilitator for a variety of workshops including Effective Business Writing, Creating a Website, Branding - how to get your product and image across, Marketing for Small Businesses, Making the Internet work for your business.
Marketing Communications Plan - development of the Marketing Communications Plan for the Chamber and a variety of other self-contained projects and programmes, including Wimbledon Town Centre Management and Love Wimbledon.
Freelance marketing consultancy: we have worked with the Chamber on an ad hoc basis since 2004 across numerous projects and programmes and delivering a cross section of our marketing services, giving them complete flexibility to use us when they need us.